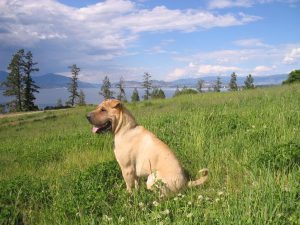 By Bob Switzer, British Columbia, Canada
I live with my wife and Oakley, our Shar-Pei, on the edge of the wilderness in western Canada. Sightings of wild animals are quite common. For five years, I've hiked with Oakley every morning. We are used to seeing deer, marmots, eagles, and more. Bears are quite prevalent as well.
As I followed the economic news each day, I found myself quite concerned about the financial markets. I was doing a lot of reading about the poor state we were in, including predictions of worse conditions to come.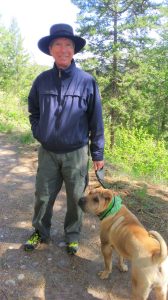 One day during this time frame, Oakley became very skittish. If he ever smelled the scent of a bear, he'd become very upset and overly protective. Not only were we next to wilderness; in the fall the bears like to come into nearby fruit orchards, particularly for apples.
Oakley became overly anxious. For about a week, he shook and was very reluctant to go on our usual walks. It took a lot of coaxing to get him to come outside.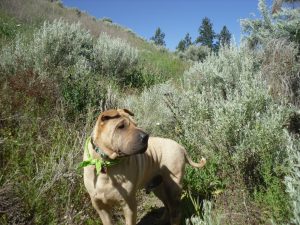 After getting him into our hike one morning, I was thinking about the bearish stock market. I received an insight from the ECK (the Holy Spirit). The connection dawned on me: Oakley was anxious about bears, and so was I.
I realized I had to shift away from the negative reading and undue attention I was placing on the "bearish" economy and stock market. Interestingly, when I let go and moved back into a more balanced state, shedding  the anxiety I was feeling, Oakley also let go of his anxiety. I feel he had been picking up on my subtle concerns or fears and was anxious, as well, for my safety. We had healed each other.
The negative vibration from my reactions had been affecting me at subtle levels that my dog could perceive. It was a destructive habit! Thanks to Oakley, I was able to let go of daily reading economic news and commentary and get back into a positive attitude on life.
—Photos by Bob Switzer