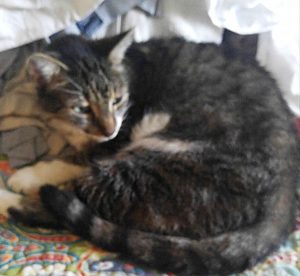 By Andrea Canham, Florida
My cats have taught me much about love. An incident with my cat Pandy became a poignant lesson and rich demonstration of the give and take of divine love. He showed me that animals are Souls with their own unique missions and agreements with God.
Pandy was a sensitive and insistent cat. He was also an unusual talker, freely giving his opinions often. He liked his meals on time and was a stickler for routine. Me, not so much. This meant he and I were often at odds. When it was time to eat, he'd let me know by planting himself at eye level as close as he could get. Then he'd begin his harangue of sentence-long chirps and bleats.
He became a favorite of my husband, rising with him each morning and supervising his ablutions.
Pandy's New Relationship with Food
As he got to be about fifteen or sixteen years old, Pandy wanted to eat more often and demanded three wet-food meals a day, despite the constant presence of dry kibble in his bowl.
Even with regular feeding, he was becoming skinnier. His fur looked unhealthy, and he began emitting an unpleasant smell. Our veterinarian suggested Pandy might have kidney disease, which he described as often being part of the aging process for some cats.
One day Pandy stopped eating entirely. He didn't even "talk" to us about feeding him. We tried tempting him with tasty treats to no avail.
After a week of his taking little sustenance, our family reluctantly agreed that the time was probably near for Pandy to leave his body. Sadly, I made an appointment at a vet's office to have his condition evaluated.
A Most Unusual Vet Visit
Pandy's vet visits were probably his least favorite things to do. He hated car rides and would let me know his displeasure in as many ways as a cat can communicate. However, in preparation for this visit to the vet, he remained stoic. The difference in his attitude filled me with dread. Did he understand this might be his last time?
As soon as the vet called us in for an exam, a terrible commotion and the sound of loud wailing came from the office's tiny waiting room. Everyone, including our vet, hurried to look. I assumed a beloved pet had died.
Then I heard someone shout, "It's a baby! A real baby! Call 911!"
Now I had to go out to the waiting room too. There, I saw a mother bending over a small child about eight to twelve months old. The baby lay unconscious on the floor, looking pale and bluish. The mother keened. Everyone seemed paralyzed by the scene.
Staying Calm
I began to sing HU, a sacred name for God, and felt myself growing calm. Singing HU is a way of blessing a situation without directing an outcome. Yet this blessing can do miracles as God's will is done. HU is a spiritual port in the storm. I comforted the mother. I am not usually a calm person, but when I'm suddenly feeling calm, I know the Holy Spirit is on the scene.
The mother said she'd been driving home from a pediatric visit, when she noticed her baby was not breathing. She pulled off the road and ran with the baby into this vet's office as a port in the storm. Her car was wildly parked, and she didn't know what to do.
EMTs (emergency medical technicians) were on the way. I assured the mother that I'd stay with her child while she reparked her car and called her husband.
I continued to silently sing HU. The baby began to revive shortly before the EMTs arrived. The EMTs determined that the baby might have had a small seizure due to a high fever and would probably be OK. They prepared to transport the child to the hospital.
Pandy's Strange Recovery
After the EMTs, mother, and baby left the office, the vet and I returned to Pandy. He had calmly lain on the exam table throughout all this commotion. Unbelievably, he was now purring. After the vet gave him fluids and an appetite enhancer, we decided to give this cat a bit more time to see if his health could improve. As we left the vet's office, I could feel a strange atmosphere of elation lingering there.
I brought Pandy home, and he immediately began eating the food I'd tried to coax him with that morning. He looked up at me once as if to say, "Well, I'm glad that's over."
Because he hadn't been able to eat for a while, his failing health had brought us to being in exactly the right place at the right time to aid Souls in need. I believe the events of that day were an agreement between my very frail old cat and Spirit. The look on his face when he started eating again made me wonder if he had been in on the whole miracle all along. I believe he was.
Pandy continued to demand his three meals a day by vocalizing to me in long, strangely beautiful sentences. He lived for almost another year, and we never returned to the vet again. I believe he had earned the right to die in his beloved home, on his own terms.
He showed me that no matter how compromised the physical body might be, one can still be a very effective channel for Divine Spirit. This is a lesson I will try to remember as I age.
—Photo by Andrea Canham
—
A Contemplation Seed
You are invited to reflect on the spiritual messages in this story by contemplating on this passage from The Spiritual Laws of Life, by Sri Harold Klemp:
Every event in our life is part of a divine plan that accounts for each so-called mistake or happening of chance. Most people don't know that life connects. They don't realize that the events in their lives are diamonds and that invisible lines run between them in every possible direction and combination of points. To be happy, we must take the initiative to connect those points that bring love and goodness to us.
How do you start?
You cannot ever put too much emphasis upon having a spiritual frame of mind. So begin every  day with the Spiritual Exercises of ECK. Sing HU. . . . The spiritual exercises will give you the strongest connection of all—a bond with the ECK, the Holy Spirit.