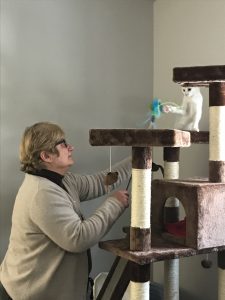 By Sue Ellen Armstrong, Connecticut
As a way of giving service to life in my semi-retirement, I offered to socialize cats at a local animal shelter by petting and playing with them. My second volunteer job involved working with a rescue group that specializes in saving cats.
Eventually I heard about a volunteer position with a local rescue that did not have its own building for sheltering animals. Instead, it relied on satellite foster homes to care for litters of kittens that other shelters wouldn't take.
The leader of this organization is a veterinary technician who gives kittens medical tests and prescriptions. When she asked for my help, I talked with my husband about the idea of caring for kittens in our home. We decided to dedicate a room to fostering litters, which would also keep the kitties separated from our family's cats.
Fostering is a lot of work, but being a self-employed senior with a supportive husband, who even helps me by scooping kitty litter, made this type of volunteering possible. The kittens have a chance to become accustomed to people and live in homes with them. They adjust naturally to sounds, sights, and smells of household life and are better prepared for families to adopt them.
A Mother Cat Fosters a Kitten Too
One time, a policeman rescued a day-old kitten from a street that was an hour away from my home. I'd only had one neonatal kitty, but I was happy to accept this one. I was also fostering a nursing mom and her babies.
I cleaned the abandoned baby to get all other scents off of her and tended to her umbilical cord. Then I let her roll with the nursing mother's other kittens so the mom would smell their scents on this baby.
The mom jumped into her whelping box where she nursed her kittens. I brought the new addition to her. She sniffed and looked up at me as if to say, "Who is this?" Soon she started nursing the four-ounce baby. By the time the kitty was placed for adoption, she still needed to be bottle-fed with a supplement but was thriving.
Spreading Love Around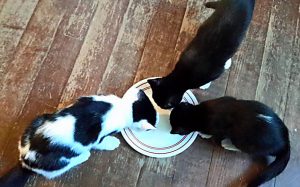 Fostering kittens has spread love throughout our neighborhood. A little girl named Angelina and her mother started coming to our house to play with the kittens. I gave Angelina the title "assistant kitten socializer." She helps the babies get used to being around human children. Recently Angelina told me she wants to be a veterinarian when she grows up.
I enjoy watching people fall in love with my kittens. A cute pair of newlyweds wanted to adopt their first kitten together. The woman instantly loved a tiny black foster kitten. She wept as she held the kitty in her arms. Through her tears she said, "I didn't know I'd feel like this. I can't believe what I'm experiencing. I want to become a foster mom too. This is amazing."
Besides this young newlywed, other adopters of my kittens have been inspired by our program and the love. Some of them have gone on to foster kittens too. Perhaps someday they may come to recognize they have experienced God's unconditional love through the purr and devotion of a kitten.
Fostering has made me calmer and more patient and brought me peace. Being a vehicle for Spirit in this work gives me the sense that I'm making a difference.
Giving service by fostering kittens has also brought memorable experiences that took me to a deeper level of trust, detachment, and spiritual freedom.
—
A Contemplation Seed
You are invited to reflect on the spiritual messages in this story by contemplating on this passage from The Loving Heart, by Sri Harold Klemp:
Begin with the love you have. Love gratefully. This love expands your heart into a greater vessel which can hold yet more love.
—Photos by Sue Ellen Armstrong