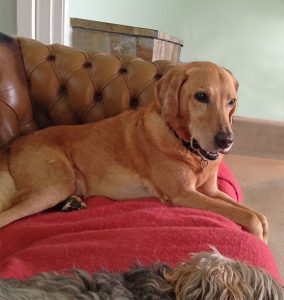 By Richard Binstead, United Kingdom
William was a Labradoodle but looked mostly like a fox-red Labrador. He was seven and a half when we picked him up from a rescue center in Wiltshire, England. William used to live on a sheep farm in Wales. But because he was frightened of loud sounds, he was of little use to the farmers, so he was taken to the animal shelter.
When I met William at the animal rescue, he was very nervous but extremely alert to his surroundings. He stole our hearts when he very shyly came up to say hello and then dashed off again. I assumed he might be fearing rejection. He'd already been turned down by a number of people because he didn't look Labradoodle enough.
I had surrendered the whole choosing-a-dog thing to the Mahanta, my spiritual guide, knowing that he'd match us with the right dog. Adopting a pet is as much a karmic relationship as any other—perhaps even more so. Taking William home with us that day just felt so right.
William's Lost-and-Found Gifts
William soon proved to be a prince among dogs—loyal, affectionate, and playful, with a wonderfully intuitive awareness. He would never stray far from me for any length of time, always checking to see that I was near.
He took care of his little "brother," Mr. Bramble, our rescued Tibetan terrier, and protected him from larger dogs. On occasions William would go looking for Mr. Bramble and bring him back to us during our walks, when the latter had gotten separated from us while we were out on a browse.
The first time I walked William beside a cliff here in Cornwall, he rounded up most of the sheep in a field and put them in a corner, then rounded up the stragglers and put them in the same corner, and finally marshaled the entire flock by running up and down in front of them. Thereafter, upon seeing him near their field, the sheep often wanted to follow our dog.
On another occasion, William and I had taken an exhausting walk along the tidal riverbank about two miles from the River Fowey Estuary which leads into the English Channel. I was looking for a shortcut back onto the main path that leads to Fowey in one direction and in the other direction to Polruan, my village.
We'd detoured to look at an ancient woodcutter's cottage at the water's edge that had been beautifully restored to its seventeenth-century state. Now we'd been off the main path for about half an hour, following tiny tracks through considerable undergrowth, and I was too tired to walk all the way back through the dense foliage to find the main footpath. As I looked around the heavily overgrown area between us and the path far above, William sensed what was required. He rushed around for a short while with his nose to the ground and found a way through the undergrowth back to the main path, saving us about twenty-five minutes of walking.
One day my mother couldn't find William during a walk they were taking on a beach about ten miles from our home. Instead of panicking at being separated from her, William made his way back to our car, which was parked among many other cars about half a mile from the beach. My mother was astonished and very relieved to find him sitting in our car, waiting for her to catch up.
While outdoors walking with William one day, I reminded myself not to let my mind wander so much. I focused my attention on the loving spiritual presence of the Mahanta, and William's immediate response was electric. He physically jumped and stared at me as if he also felt the presence. I was sure he had a smile on his face.
A Princely Personality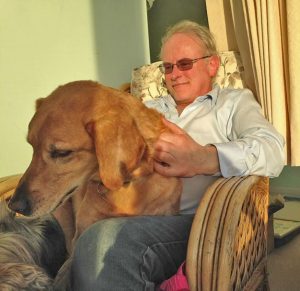 Indoors, William was a TV addict who loved animal programs and swashbuckling action movies. Also, following the ball from one side of the screen to the other, he was a devoted fan of tennis and cricket matches. He'd get quite animated—dancing and prancing around the living room, chewing on his toys, and barking furiously at the TV screen.
When the TV wasn't on, he'd poke me with his nose and then rush to the TV to tell me exactly what he required. William had an unfortunate habit of attacking the furniture in all his excitement.
William, the Hero
Perhaps the greatest story about William took place in the middle of one night. I awoke to hear him barking and whining by the back door. This was most unusual, so I got up and let him out. Our house is in an isolated area, next to the English Channel. It adjoins both the sea and the South West Coast Path—a national resource with hundreds of miles of road suitable for walkers and hikers, which runs all the way around the entire southwestern coast of England. To the east side of our house there is a neighboring house.
As I followed William outside that night, he rushed to the wall dividing us from our neighbor and started barking furiously. Smoke poured out of a chimney at the neighbor's house. Flames flickered through the kitchen window.
I immediately called the fire brigade. They had to break in because the people inside weren't responding. Afterward, one of the village firefighters told me the owner's son and his girlfriend, visiting for the weekend, were sleeping and hadn't heard their indoor alarm. The pizza they had put in the oven caught alight, setting the kitchen on fire. If it had not been for William barking and alerting me, two lives and a house might have been lost.
William passed away to cancer when he was only eleven. As close as he and I were, it was a terrible day for me when he died in my arms at the veterinarian's office. I cried, heartbroken.
Thank God I had the Mahanta to pass him on to. In surrendering my best friend's ongoing spiritual welfare, I felt enormous comfort, knowing he was now in good hands and would be well and lovingly cared for. As I write this, I can feel tears of sadness and gratitude welling up.
Our veterinarian had been very kind and supportive at this difficult time for us. She sent us a lovely condolence card afterward. In return I wrote back to her:
William was a force of nature, and he has left a huge hole in our lives. We were honored to have known him and to have had him as a part of our family. We loved him very much, and he loved us very much. He was always so demonstrative in showing it with his nose and paws bashing us and his kisses and cuddling up. I can honestly say I am a better, kinder, and more loving person for having known him. He was a great friend and teacher.
—Photos by Theresa Justice