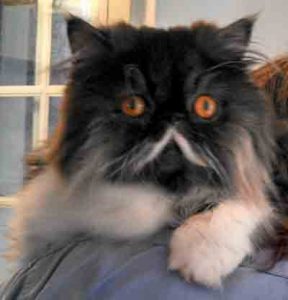 By Stacy Rae Lake, California
At two thirty one morning, I was awakened by an energy surging through my body. I sat up in bed and heard an inner voice from my spiritual guide, the Mahanta. The voice was telling me, "Go to your computer and put in these words: "Persian-cat rescue."
I got up immediately, walked to my computer, and typed the words into the Google search box. When I clicked on one of the results that came up, the most amazing photo popped onto my screen. It was of a beautiful Persian cat named Abracadabra Bosley. The information under his picture stated that the cat's owner had recently passed of cancer. Her sister already had two cats and could not take care of this one.
At that time, my husband, John, was battling cancer and had less than a year to live. We'd previously had a great Persian cat named Rudolph Valentino. John and I loved him so much.
We'd rescued Valentino when he was already an older cat. Due to age and a health condition, he passed away, and our heartbreak was unbearable. It had been two months since the loss of Rudolph Valentino when I got the dream message to look for "Persian-cat rescue." The Mahanta must have known our hearts could open again to love another cat.
Love Blooms
I sent an email to a woman who was caring for Bosley at the shelter. When she heard the story of how I had found him, she said, "Without a doubt this cat is meant for you and your husband."
John took one look at the photo of Bosley, and he also knew this Soul needed us and we needed him. Bosley lived a six-hour drive away, but although John was sick from chemo treatments, he insisted we drive immediately to adopt this cat. Elated, we headed out to bring home Abracadabra Bosley.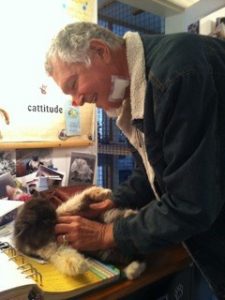 It was love at first sight. Bosley immediately went to John, rolled over onto his back, and waited for my husband to rub his belly. I must say my ego was slightly hurt, since I had been the one with the dream experience and nudges to find him.
Bosley Gives a Gift
By the time we got home, John was in pain and needed to lie down. It hurt my heart to see my wonderful husband suffer.
I rolled up in a ball on my couch and tucked my head down so John wouldn't hear me crying. Suddenly Bosley jumped up on the sofa, placed his fuzzy face near mine, and curled up next to my ear. An incredible sound, like a hummingbird flapping its wings in my ear, came out of him. It was unlike anything I'd ever heard.
This sound released a profound joy in me. I felt less sadness and had more strength and balance. I thought, No wonder this cat's name is Abracadabra. He is magical.
I found out later from a friend that abracadabra could be from a Hebrew phrase meaning "I will create as I speak."
I thought, What a great gift from the Mahanta. The cat's name will remind me how powerful words can be in creating our world. This would make me conscious of what I put into the universe with my thoughts and spoken words.
More Than Coincidence?
The woman at the shelter had handed me a folder with Bosley's history. I was amazed when I looked at a memorial card with the date his previous owner had passed—August 18. It was the same day Rudolph Valentino had passed. I can envision a perfect switch in heaven. Lynne, Bosley's previous owner, now has Rudolph Valentino, and I have her loving cat. I love how the ECK, the Holy Spirit, works.
Special Treatment for a Special Cat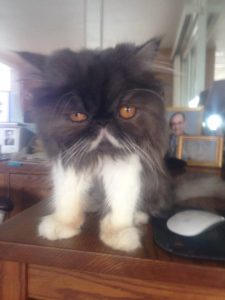 We shortened Abracadabra Bosley's name to Boz and grew to appreciate him even more as our miracle. He brought great comfort to John before he translated. He continues to show miraculous abilities with his healing love and the laughter and joy he brings to me every day. Looking at his face, with its fuzzy mustache, each morning is so much fun.
Boz likes to knead my hand with his paw. Sometimes he wraps around my arm and draws me closer to him. He sleeps next to my head and eats at the table with me. Even though I've tried to get him to drink water from every cat fountain on the market, he'll only drink out of a faucet. I am his happy little human servant, turning on the faucet for him when he's thirsty.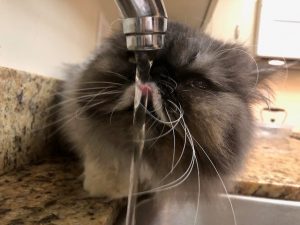 I sometimes host a Sound of Soul event at my home. It's a chance for people to get together and sing HU, the holy love song to God, and discuss spiritual topics. Boz participates from his own chair in the circle.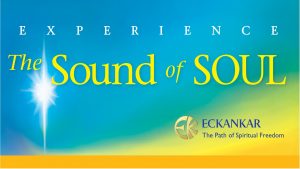 Boz and I both enjoy it when I feed him with chopsticks. My friends say I'm spoiling him way too much, but Boz grows more loving every day. He is the king of our castle. It's only what he deserves. My late husband knew I would need Boz. He was right. This cat has always been there for me through the hardest times of my life.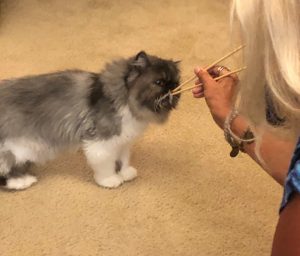 I thank the Mahanta, the Dream Master, for waking me up and leading me to Boz. I have such gratitude to the ECK for this precious gift and the opportunity to once again give and receive love.
—Photos by Stacy Rae Lake
A Contemplation Seed
You are invited to reflect on the spiritual messages in this story by contemplating on this passage from How the Inner Master Works, Mahanta Transcripts, Book 12, by Sri Harold Klemp:
If you understand dreams and how they work, you can use your dreams to take the next step in your own life.
An effective way is to use dreams together with the Spiritual Exercises of ECK. What is a Spiritual Exercise of ECK?
A very simple one is to sing HU. Do this at bedtime for five or ten minutes before you go to sleep. It spiritualizes your state of consciousness.
And when you shut your eyes, just forget about your intent to have any kind of special dream. Just fill your heart with love, and go to sleep. Do this continuously, night after night, and soon you will find your dreams take on a different meaning.
Those of you who haven't dreamed before will find you will suddenly begin to remember your dreams. They provide a key for a happier, more spiritual life out here.