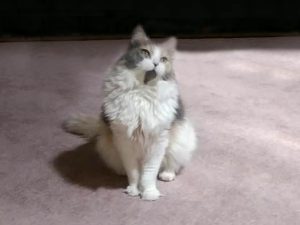 By Montina Holliday, Arizona
I had the pleasure of accepting a gift of love from a patient and his family while tending to them at the hospital where I work as a patient care tech. It started when I had the nudge to tell them I was finally open to getting a pet, probably a cat.
The wife of the patient said, "What a coincidence. We're trying to find a home for our cat. Would you like to meet her sometime?"
I said, "Yes, but it would have to be after your stay at the hospital, because I'm not allowed to accept gifts from patients."
I gave her my contact information and started rearranging my home for the arrival of a new being.
The woman's husband left the hospital. Months went by, and I heard nothing. I found her on Facebook, and we became friends. But to my surprise, she had forgotten all about me.
Apparently, she had given the cat, Liah, to another lady who already had two cats and a dog. When things didn't work out with that home, she was more than happy to take Liah back and wait for the right person to give her to. Coincidentally, that was the moment I made contact via Facebook.
The cat was still in need of a forever home, so she invited me over. She interviewed me extensively to make sure Liah and I would be a good fit. I shared my spiritual beliefs with the woman and told her I am an ECKist (a member of Eckankar). She looked up Eckankar online and became sure that I was the right person for her cat.
Finally, the day came when the wife and husband arrived on my doorstep with Liah. They gave me her cat box, scooper, and extra litter. Liah even had special water, a food bowl, and extra food. The wife was so happy to find a good home for Liah that she offered to buy food and cat litter for her every month. I thanked her and let her know I could manage it.
Liah's Forever Home
Liah has become an awesome companion. I have someone to greet when I come home. I feed her, clean the cat box, and comb her long fur. She always greets me first thing in the morning when I get up. I just love her so much.
When my grandma passed away, Liah and I went to stay at Grandma's house to help my mom through the transition. Liah became a love bomb for my mom too. My mom even bought her toys, food, and litter while we were there.
One day Liah became lethargic and didn't want to play or walk around the house anymore. I took her to the vet and learned that she had an unusual condition, one not normally found in cats but only in humans. It was a heart murmur. The vet compassionately told me that Liah's heart would eventually fail.
She explained the things I could do for Liah's condition and suggested a collar that helps pets in stressful situations. The biggest issue for Liah was to keep her lungs healthy. This meant she had to avoid being near cigarette smoke.
My mom had a habit of sitting in the enclosed patio, smoking. She would let Liah outside to join her there. This was terrible for Liah's lungs, so I kept her in my bedroom during the rest of our stay. Liah slowly started showing improvement. Mom went back to her house, and Liah and I returned to our place.
Liah made a full recovery, and I keep her at home. No more visits to homes where there's smoking. I still visit my mom and love her unconditionally. I can love them both, just not in the same space.
Liah has been with me over a year now and is still as healthy as can be.
—Photo by Montina Holliday
—
Contemplation Seed
You are invited to reflect on the spiritual messages in this story by contemplating on this passage from Animals Are Souls Too!, by Harold Klemp:
A Simple Exercise to Appreciate Your Animal Friends
At different stages in our life we find it very, very helpful that Divine Spirit has sent us a good animal friend—a dog or a cat or a parakeet, even a goldfish. Something to show the divine love that is so necessary for all beings.
In this exercise, you practice keeping an open heart throughout everyday life. It's very tough; I have to work at it all the time too. No one technique will work for everyone, but there are ways to keep your attention on having an open heart.
So here's the spiritual exercise: If you have a pet, love your pet. Love it a lot. As the love comes, let it pour through you. And show your love by how you treat your pet every single day.
The habit of love is catching; it builds, gains momentum, and becomes easier. But like a plant that needs daily watering and loving care, the habit of love takes constant attention.
Love won't come through unless the heart is open.
To work with an open heart is to love or care for something or someone more than you do for yourself. This is the first step to the divine love that we are looking for.