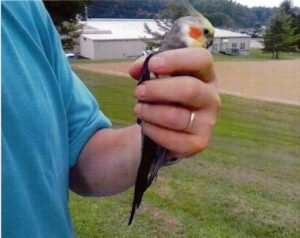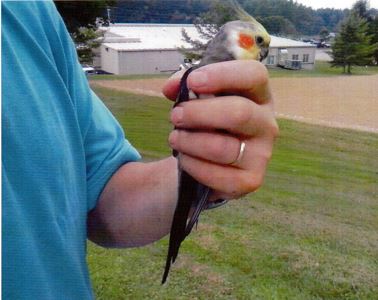 By Sibylle Saunders, Vermont
My husband, Tom, and I went hiking on a beautiful Vermont fall day. We went to a nearby pond, where we heard a number of birds. From across the pond came one bird sound we didn't recognize. The bird got closer and closer. Was it a cardinal? A warbler?
Suddenly the bird flew over us to a tree, and we saw a flash of color. We then realized it was a cockatiel. Someone's pet must have gotten loose.
It called to us, and we started calling back. Tom pulled out peanuts and raisins from his backpack. As a farm boy he had learned to lie down to attract wandering heifers, relying on their curiosity. The method worked for this cockatiel too. The bird landed and started eating the nuts. It must have been starving.
We talked to the bird and told it that winter, with freezing temperatures, was coming soon. Going home would be a smart move. Sometimes she chirped when she heard another bird chirping, but they all ignored her. No other birds wanted to be around her or play with her. She must have felt lonely.
Tom knew better than to reach for her, so he waited patiently and kept talking. Soon we realized she was more comfortable with him than me, and we speculated that her owner must be a man.
After a while she came close to Tom's hand, and he picked her up. The bird was not happy at first; she bit his hand. But Tom managed to hold on. It was a long walk down the mountain, but the bird rode safely in his hands. She kept falling asleep but would occasionally wake up to bite once and then nibble on his hand. She looked so adorable with her eyes closed while sleeping. Obviously she was comfortable with people.
We took her to the local animal shelter, where they put her in a birdcage. While there, we heard that someone nearby had reported an escaped cockatiel three days before.
We called the shelter the next day and found out that the bird's owner came within an hour to pick up the cockatiel. Her name is Rosie. She had flown over nine miles from her home to the mountain where we found her.
The local paper featured Rosie's rescue. Tom contacted the owners. Yes, a man was the bird's primary caretaker. Her owners said Rosie ate huge amounts of food upon her return and then slept for two days. It can be tough out in the wild!
Now we get a Christmas card with a photo of Rosie every year. The last one shows her eating ice cream with her owners. She is happy to be home.
We were so happy to help Rosie return home and to protect her. And I am grateful that the Mahanta, my spiritual guide, found and protects me and is helping me return home. The more I experience help in small and big ways, the more I grow aware of and benefit from the Mahanta's protection and love.
—Photo by Sibylle Saunders
—
Contemplation Seed
You are invited to reflect on the spiritual messages in this story by contemplating on this passage from The Spiritual Laws of Life, second edition, by Harold Klemp:
When we speak of opening your wings, it's coming into an awareness of the spiritual love and protection of the ECK Masters.
They are the guardian angels around you all the time. It's just a matter of opening your awareness and going above the human consciousness to recognize and benefit from this.