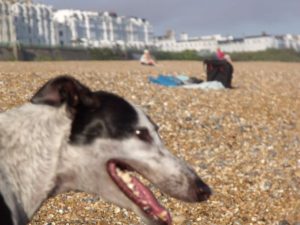 By Stephanie Clay, England, United Kingdom
Some time ago I was walking my neighbor's dog, a smart greyhound named Tinkerbell; Tink for short. My neighbor had cancer, and dog walks were not something she could do.
Out in the woods Tink was startled by a loud firework. She headed off quickly—after all, she is a greyhound!
I looked for her for a long time in the chilly woods. Then, as night fell, I sadly walked back to my neighbor's house. I'd done all I could but felt afraid for Tink and terrible that I had let down my neighbor by losing her dog. Silently I sang HU, a sacred name for God, and asked my inner spiritual guide, the Mahanta, to help resolve the situation in the best way for all. (The Mahanta connects Souls directly with the ECK, the Holy Spirit.)
With my apologies ready, I reached my neighbor's house. There, I was surprised to find that the dog had gotten herself safely home—a distance of a few miles, across several busy roads. Tink sat outside the house, unable to open the front door, but just then a passerby noticed and knocked for her.
It turned out that the woman who knocked on the door for Tink had survived the same rare cancer my neighbor had. She was also very keen to walk the dog. So my neighbor met someone who really understood her condition and with whom she could discuss her cancer treatment. And we had another dog walker.
The ECK is just amazing in the way It works to help people.
I still walk Tink a few times each week. We've become the best of friends.
—Photo by Stephanie Clay
—
Contemplation Seed
You are invited to reflect on the spiritual messages in this story by contemplating on this passage from The Spiritual Exercises of ECK, by Harold Klemp:
Spiritual Strength in Hard Times
Sing HU, a special name for God. When you sing HU, you agree to let Divine Spirit do what is best for you. Singing HU does not guarantee a healing, but it does arrange for the conditions that are best for spiritual unfoldment.