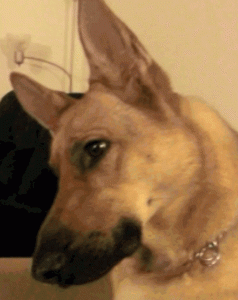 By Tammy Attama, Virginia
From the first time I saw a video recording from Eckankar called Miracles in Your Life, I knew it was special. The clip introduces HU, the sacred Sound of Soul. The melody of the background music gives me chills, the photography is exquisite, and the inspiring quotes touch my heart.
One day I offered to babysit Owen, the child of my cousin and her husband, at their home. They worked night shifts as police officers, and I was more than happy to help them. When I made the offer, I didn't know my cousin's German shepherd, Casey, would show me another aspect of love within Miracles in Your Life.
Soon after I arrived for my visit to babysit Owen, Casey made it clear she considered taking care of the baby as much her responsibility as mine, and she was up to the task. Casey watched every move I made with Owen, often shadowing us around the house. She lay on the floor next to Owen as he played, sniffing him occasionally to make sure he was OK. Watching how lovingly Casey cared for this precious baby, it opened my heart just to be in her presence.
One evening Owen became inconsolable. Nothing pleased him. Fulfilling his basic physical needs wasn't enough to quiet him. I sang to, walked, rocked, and bounced the baby while Casey paced back and forth like a nervous mama.
Desperate for a new idea, a thought flashed into my mind: Play Miracles in Your Life. The soothing background music may be just what Owen needs.
I turned on the speaker and played the short video over my cell phone. The accompanying music was as calming as a lullaby. Owen quieted almost instantly. However, Casey's response filled me with wonder.
As soon as the music began, Casey snapped to attention. She listened intently at first. Then she hopped onto the couch and assumed a position that reminded me of a person contemplating. She sat straight up with her legs stretched out in front of her. I was stunned when she began to howl in a way that sounded very much like the sound of singing HU on Miracles in Your Life.
I played the video a few more times. Casey always had the same reaction. With each replay this sweet Soul sang/howled HU along with the three-minute clip.
I decided to record her reaction. Casey did not disappoint. How wonderful that I now have this delightful memory not only in my heart but as a video I can watch and enjoy again and again.
In The Sound of Soul, Sri Harold Klemp writes, "Love is love. And you are that. HU is the Sound of Soul."
I believe Casey recognized the Sound of Soul.
—
Contemplation Seed
From The Sound of Soul, by Harold Klemp
You can open yourself and gain a greater awareness of who and what you are as Soul. You can do this by singing HU. Sing it to yourself, or sing it out loud. But do it every day.
HU is your key to your secret worlds. Once you learn to use this key, you will find a blending of your inner and outer worlds. You'll find yourself filling with love.
—Photos and video clip by Tammy Attama